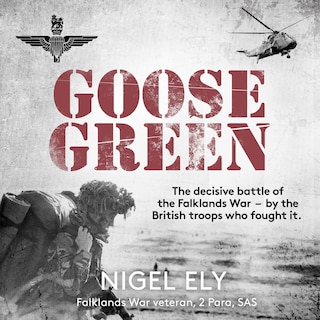 Yhteenveto
Published to mark the fortieth anniversary of the Falklands war

'There was a time when we did extraordinary things.'

On 28 May 1982, 450 men of the 2nd Battalion, the Parachute Regiment - 2 Para - went into action to retake the settlement of Goose Green on East Falkland, where more than 1,000 Argentine soldiers were holding 119 Falkland Islanders - men, women, children and one baby - in squalid conditions.

Forty years on, Goose Green is still the biggest and bloodiest battle the British Army has fought in modern times. This book is the living narrative of the battle told by the very men who fought it; not just the soldiers of 2 Para, but also the SAS, the Royal Navy and Merchant Navy, and others, in more than a hundred exclusive and untold personal accounts.

Some are extremely funny, some touching, and some heart-breaking. All were recorded face to face, the speakers' own words adding a gritty authenticity to each account and conveying the confusion and terror of battle, as well as the courage and selflessness of men in action. Goose Green is a book that goes beyond the official histories and the many memoirs to bring to life the first and, as it turned out, the decisive battle of this country's outstanding campaign to retake the Falkland Islands from a foreign invader.

This is a true story of a great victory against all the odds, told by the men who fought it.