Honest. Finnish. Magic.
- Blanca Juti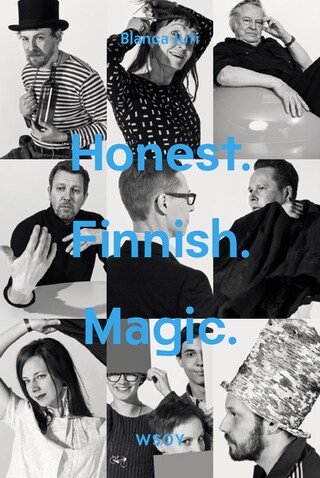 Yhteenveto
"Finland seems to be on a roll."

A renowned brand executive's inspiring collection of interviews with people who've all contributed to Finland's recent international accolades in their own way.

Finland tops the world charts in education, child welfare, happiness, as a place to retire, in transparency and in competitiveness. The country is bursting with energy, as illustrated by its dynamic grass root movements and fast growing start up scene. How is it that a country sitting all the way up north with a harsh climate and a difficult language manages to capture the world's imagination? Honest. Finnish. Magic. is a collection of interviews that attempts to answer this question through the voices of some truly unique people who live and work here in the northern latitudes.

Blanca Juti came to Finland some twenty years ago to follow her heart. Although she has lived in and enjoyed many other countries, it is Finland that she chooses to call home. Her love for Finland is manifested also in the work she does. Having worked with iconic Finnish brands Nokia and Fazer, she is now devoted to Rovio, the makers of Angry Birds, where she heads the Brand Office. Blanca Juti travels around the world for work, but she always returns. When in Finland, you can find her deep in the Finnish countryside attempting to ski or come summer at the steps of the Helsinki Cathedral enjoying an ice cream.